It's been awhile since I've made a blog posting, though I do have a few uncompleted drafts laying around. I'm just really lazy. Tina stumbled upon this old one - the first I ever did - on her Mom's email account. Before this webpage, I used to send blogs like this in email form. We gave up looking for this one over a year ago (along with an old "Drinking Around The World at Epcot" one I wrote around the same time), but luckily, the search is over.
There will be a new "Drinking Around The World" blog up in a few weeks, though, cuz we're going to the Epcot Beer & Wine Fest.
Day 1 (SF to Mountain View, 9/10/06):
Arrived at San Fran airport around noon on Saturday, and shuttled over to Enterprise to pick up the car that we'd be driving for the next few days.
Since they didn't have the vehicle that we had already reserved (they know how to TAKE a reservation, but they don't know how to HOLD a reservation), they offered us this upgraded vehicle at a substantially reduced fee.
Yeah, that's the Mini Cooper convertible. I guess they thought I looked like a little bitch, but whatever, I took it anyways.
Tina and I headed down the coast to Mountain View where we would be seeing Dave Matthews Band at the Shoreline Amphitheatre that evening (It's my fifth DMB show this year, 29th overall; I may require an intervention). After checking into our hotel, we learned of an art and wine festival in town and spent our afternoon there visiting the multiple art booths while drinking numerous glasses of wine and eating some really terrible food.
Seriously, whoever came up with the idea for parmesan garlic fries can kiss my ass.
With temperatures in the 80's all afternoon, I was expecting pleasant evening temperatures, but i was sadly mistaken. Even though Tina told me to dress warmly for a cold evening, I scoffed at the notion of wearing anything heavier than shorts and a tee to a concert where the temps would eventually fall to the 55 degree area. I am an idiot.
Luckily, as the show starts and the crowd starts singing and dancing, the temps seem to rise around me to a comfortable level. The show was great as usual (where else can you see people jumping around to a 5 minute fiddle solo?), and I was especially fond of the fat red-haired dude that kept running up and down the aisles playing air saxophone, air violin, air drums, etc. If that is your brain on drugs, then I might be interested in partaking of his herbal remedies, cuz that guy looked like he had more fun than of all of us. Well, it's off to bed, cuz we gotta drive up to Napa Valley tomorrow which is where we'll be spending the next 3 days of our vacation. G'night!
Days 2-4 (Napa - 9/11/06 - 9/13/06):
Absolutely beautiful. There's really no other way to describe it, well, there probably is, but I'm too lazy to use a thesaurus. Here's Tina and the Mini: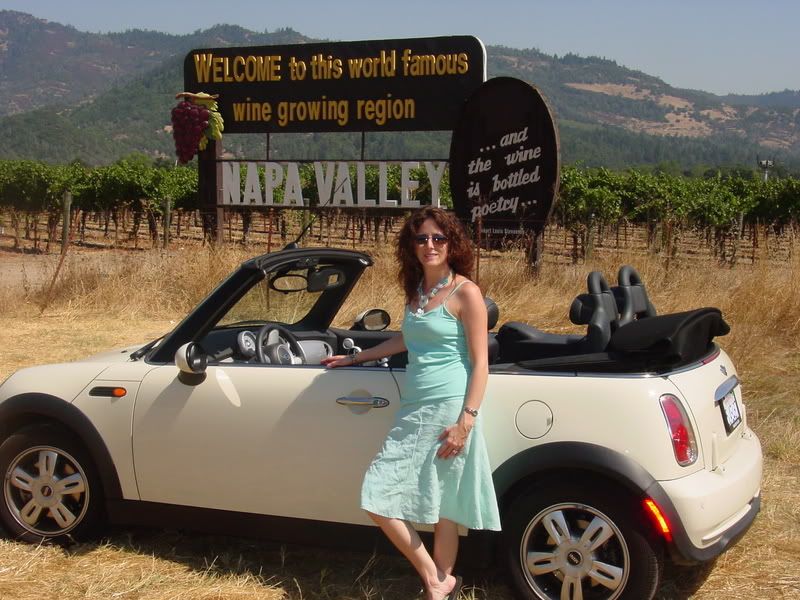 We spent our first two days in going up and down Napa Valley, sampling the various wines that the local vintners had to offer. We focused on the wineries we had never heard of, and steered clear of the big ones like Beringer, Sutter Home, Robert Mondavi, etc. We found a few wines we enjoyed like those from Mario Andretti's winery (seriously, Mario Andretti owns a winery)...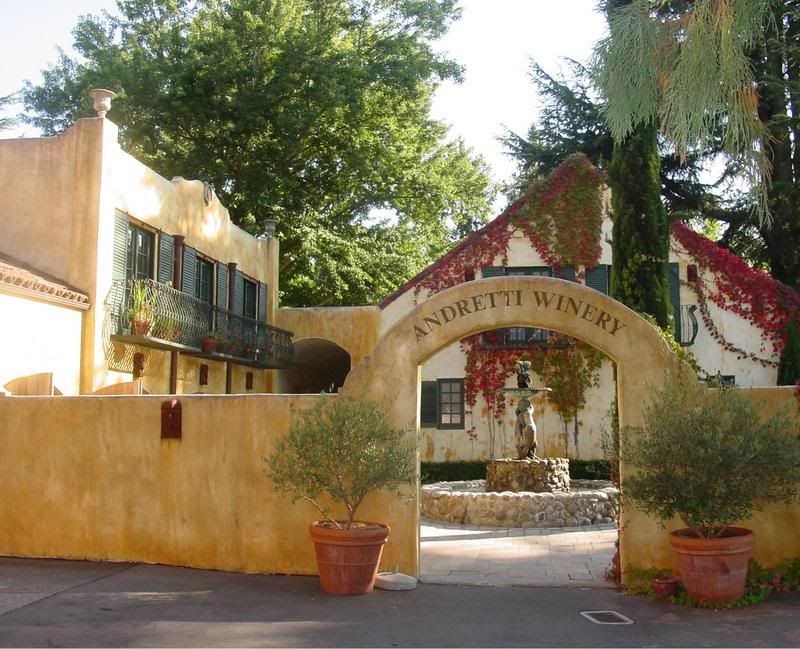 ...and we found some that tasted like licking your armpit after working in 100 degree temps all day like V. Sattui and Francis Ford Coppola (I used to think that the movie "Jeepers Creepers" was the worst thing he's ever produced, but then I tasted his cabernet sauvignon).
And there was even a winery that capitalized on my family name:
The winery that stood out was the Frank Family Winery. It was the best we'd tasted in our three days and was the only winery that we bought enough wine from that we had to have them ship it home. Here's the website for anyone that's interested: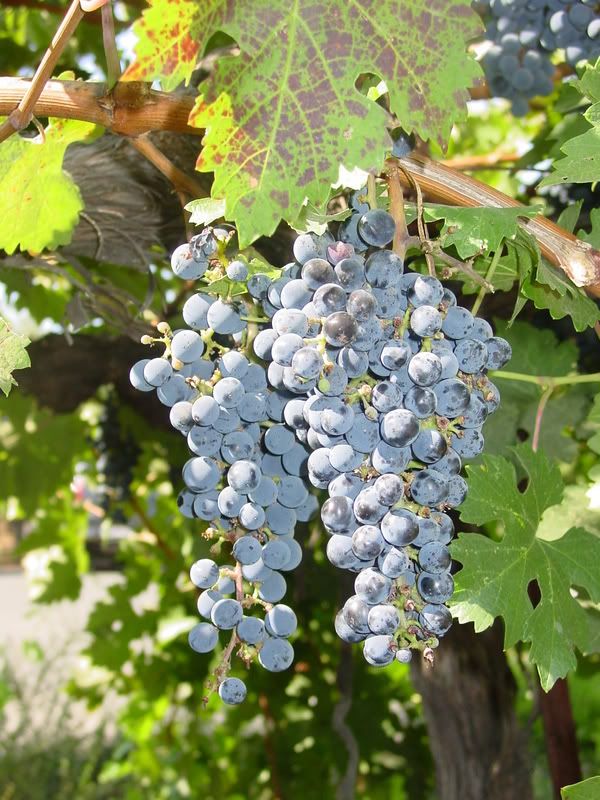 We loved shuttling around from winery to winery, sipping on assorted wines and eating the occasional imported cheeses. As a matter of fact, after about the 8th winery, and the consumption of this much wine...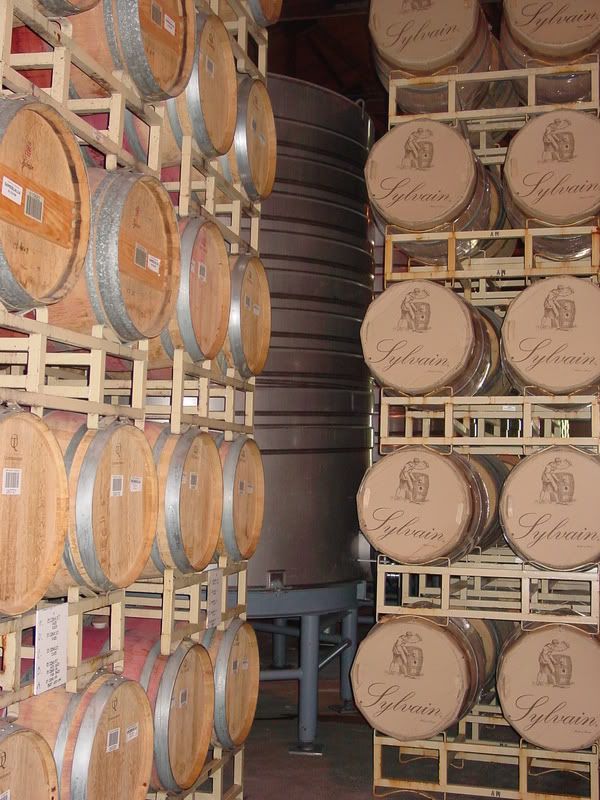 ...I was so drunk that I talked to this guy for a good five minutes before I realized that he was a bronze statue and not a real grape picker like i was led to believe. I figured he was just ignoring me...and an asshole.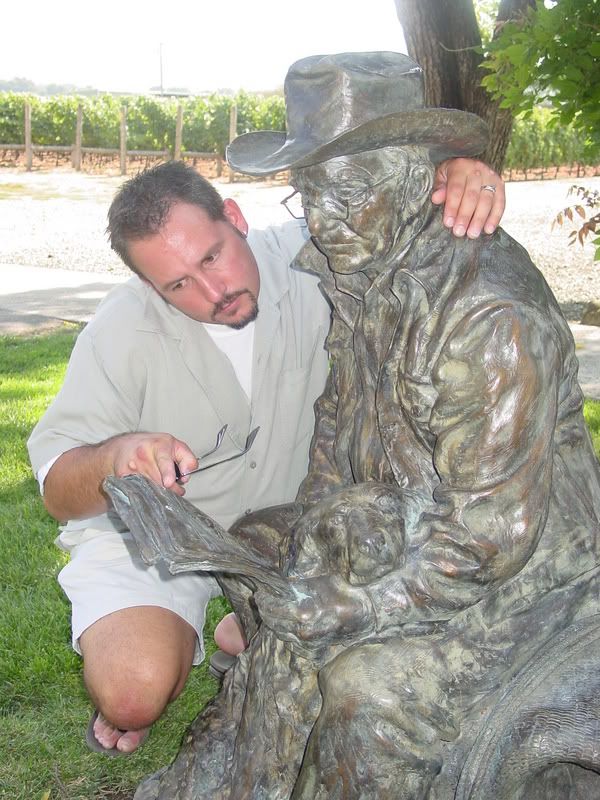 And how drunk was Tina, you ask?






She's pretending to work, isn't that adorable? This is actually the MOST physical labor that she's done in quite some time. You'll notice her left hand is hidden, and that's because it's on the statue's ass...she said he had "buns of steel".

We concluded our trip through the wine region with natural mineral spring spa treatments in Calistoga (North end of Napa Valley). Our 1 1/2 hr session started with a ten minute soak in a mud bath that was 140 DEGREES! (It's amazing how much the penis can retract on itself, much like a turtle.)
We entered a five minute mineral water shower, where we took turns trying to hose mud off of each others body (you think this would be kinda sexy, but you would be dead wrong). Then we spent another 15 minutes in an mineral water hot tub set at 104 degrees. As I was climbing in, Tina happily pointed out that I still had mud in my buttcrack (like I said, not sexy).
Once our hot tub soak was finished and my testicles had shriveled to the size of raisinets, we were ushered to a room where they wrapped us in towels and soaked our foreheads and necks with cold compresses. (At this point, I still can't believe that I'm paying these sadistic fuckers to "detoxify" me.)
Our final half hour is spent receiving a massage. I finally feel relaxed, my guy parts descend back to their proper perch, and somehow I manage not to fart. Never again.

Tomorrow we head back to San Francisco for the last three days of vacation. It's already going too fast. Gotta get some sleep.

G'night all!
Day 5 (San Fran - 9/14/06):
After making the drive down to San Fran from Napa Valley, there were two things we wanted to do before we returned the car to the rental place. The first was to drive over the Golden Gate Bridge and take a spectacular photo of it.
Unfortunately, it was foggier than Tina's recollection of all the nice things I've done for her.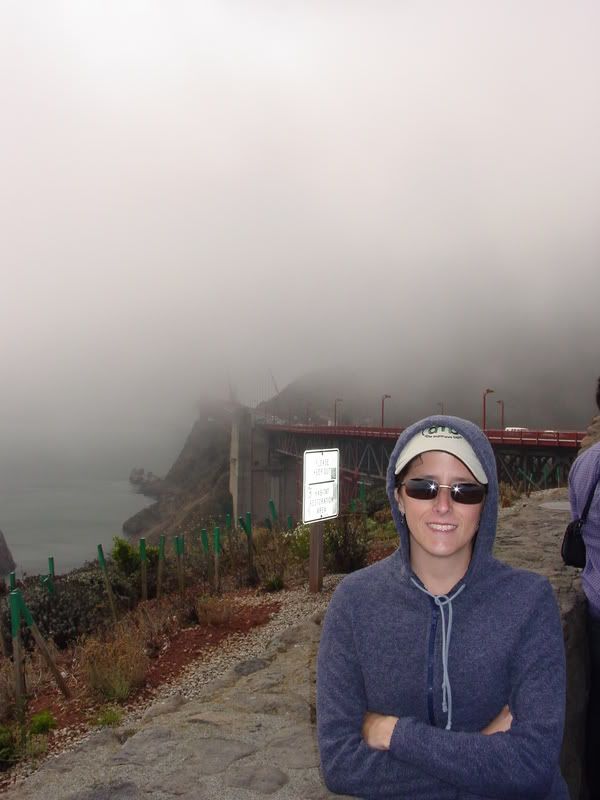 Our second task was to drive down San Fran's most crooked road, Lombard Street. It's a tad overrated, but fun just the same.
Finally we checked into our residence for the next three days, the luxurious Hotel Nikko. I now believe that "nikko" is the Chinese word for "miniature".
After leaving our closet, I mean "room", we hopped on one of the world famous trolley cars and headed for the very touristy Pier 39, and that was where we saw The Rock.
No, no, no, not that Rock. The other rock, Alcatraz.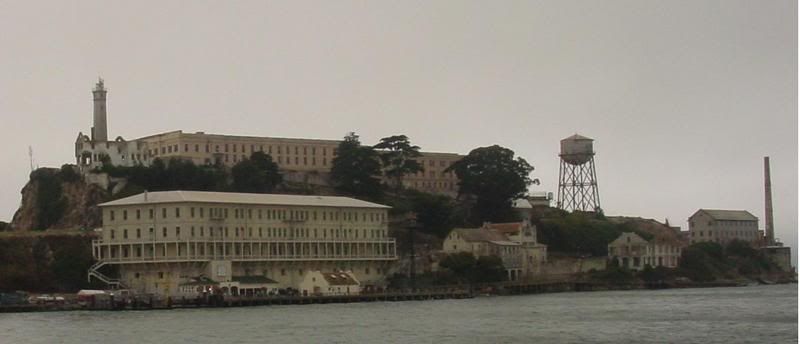 The prison cells are so small in Alcatraz that I'm surprised the Hotel Nikko hasn't tried to buy it.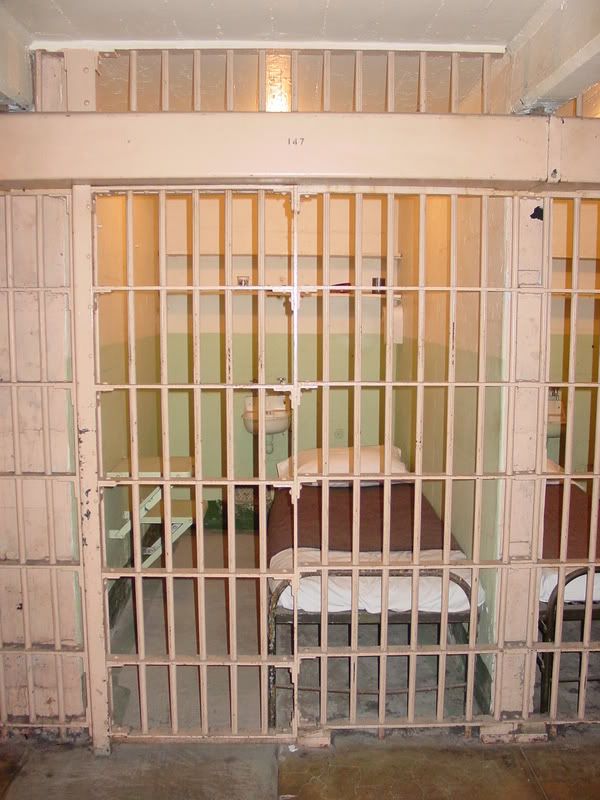 Over at Pier 39, there is a spot that wild sea lions come to relax.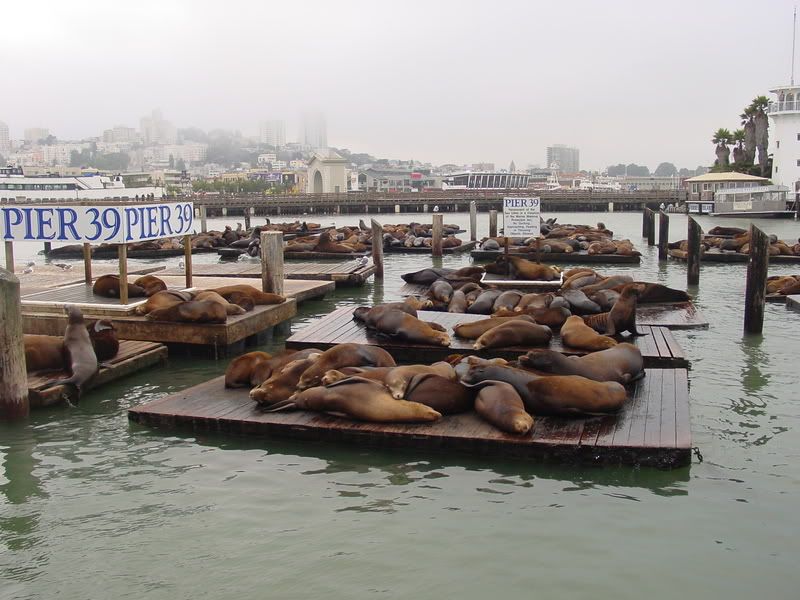 It's better than a zoo, cuz they come and go as they please and no one is allowed to feed them. Not only that, but they're just friggin adorable.
Seeing the sea lions made us miss our little Guinness.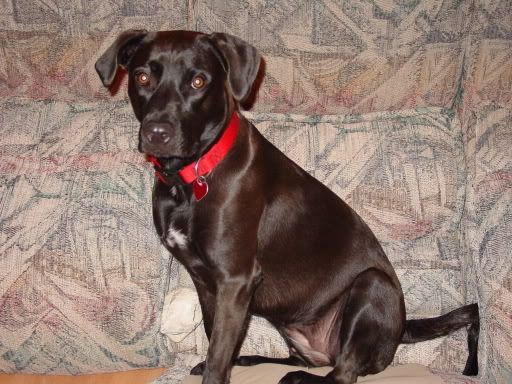 We capped off the evening with dinner at some forgettable oceanfront restaurant, and a coupla beers at a downtown pub. Time for bed now, cuz we're going to a noon SF Giants baseball game tomorrow and they're playing the last place Rockies, so i figure if I get there early, the Rockies will let me play. Stay Tuned!
Day 6 (San Fran - 9/15/06):
Started off this morning with some breakfast from Jack In The Box. If there is an unhealthier food option than this, I don't know of it.
With our stomachs full, we boarded a trolley car for the trip to the baseball game.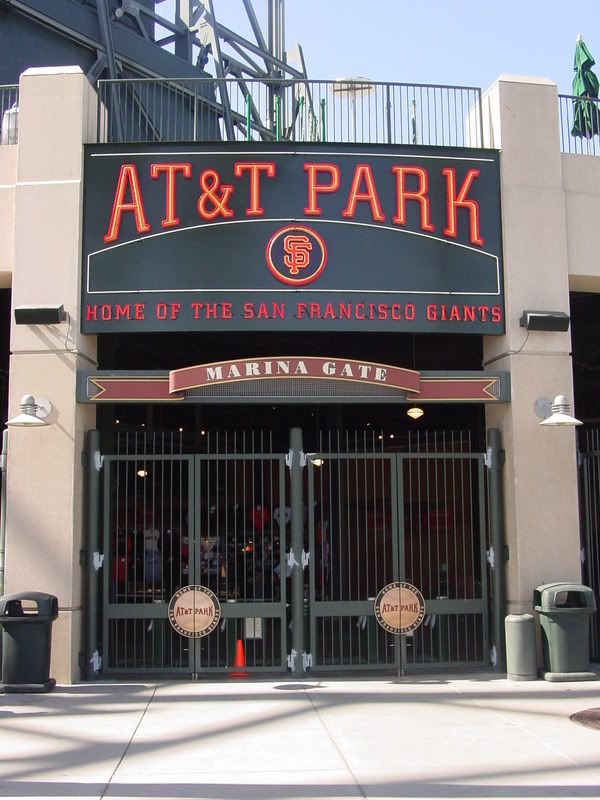 The big food item at the ball game? Parmesan garlic fries. What is the deal is with this city and those (disgusting) garlic fries?! I was never very good at history, but I'm sure that at some point in time, San Francisco must have had a really bad vampire outbreak.
From our seats in the right field bleachers, we had a nice view of the Bay Bridge, which crosses from San Fran to Oakland.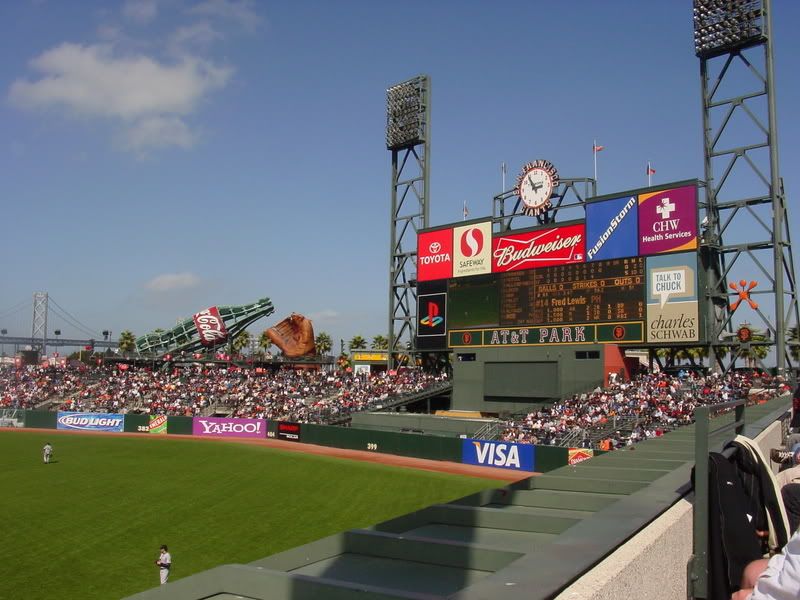 If it's true what they say about the size of a man's hand as related to his penis, then you will know why Tina has such a big dreamy smile on her face.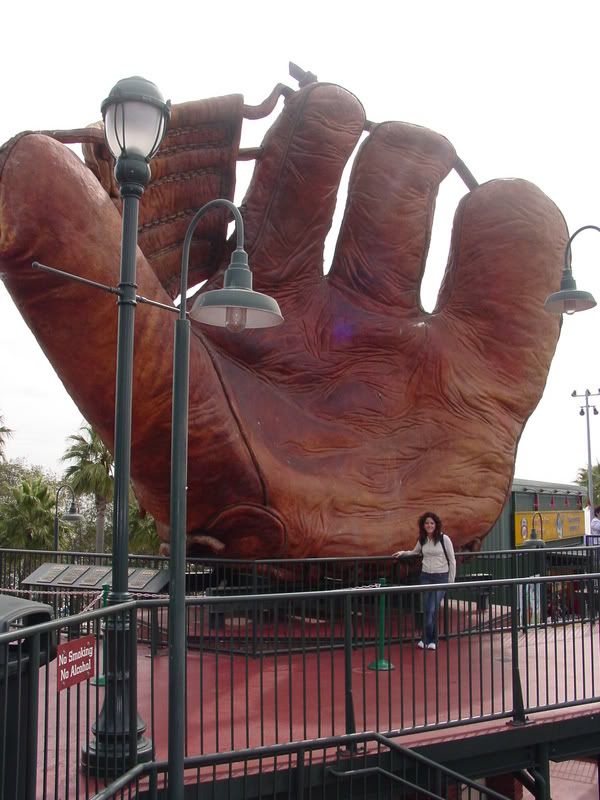 As I'm sure a few of you know, McCovey Bay is located directly behind the right field wall, and many fans gather there in various boats and kayaks to catch the home run balls that splash into the bay. These guys even go so far as to bring their grill along with them.
After the game, we decided to walk up Telegraph Hill and possibly go atop Coit Tower, which offers panoramic views of the city. San Francisco is a very hilly city and alot of the roads are quite steep (5th grade Geography in the house). After we finally ascended Telegraph Hill, out of breath and dripping with sweat, we encountered this sign: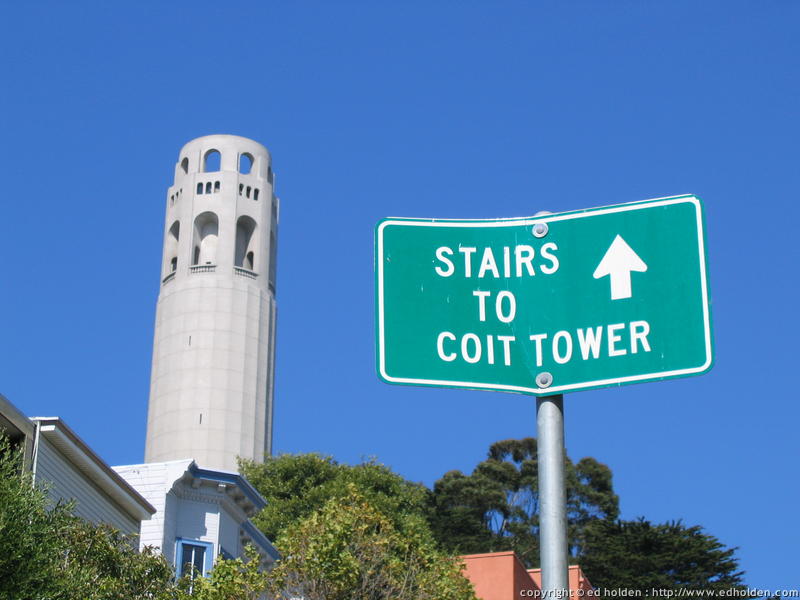 You gotta be shittin' me! Oh, there were stairs, allright, and more stairs, and more friggin stairs! Just when I'm starting to feel the daggers that are shooting out of an exhausted Tina's eyes, we reach the base of Coit Tower, and board an elevator (yay!) to the top. However, after disembarking the elevator, we're instructed to follow a spiral staircase the rest of the way to the top. Seriously, the only way this could be more punishing is if upon reaching the top, you have to take a fucking mud bath! At least the views were quite nice.
From there, we took the walk downhill to the Little Italy section of town and then checked out Chinatown. There are a lot of open air markets in Chinatown, and they hang alot of unrecognizable land and sea critters from hooks at these stores that I guess people eat. The smell is somewhere between rotting garbage and beer farts. Though we were pretty grossed out and borderline nauseous, we picked out a chinese restaurant where we enjoyed a good meal, with one exception...I had never seen an uncircumcised mushroom before...EVER.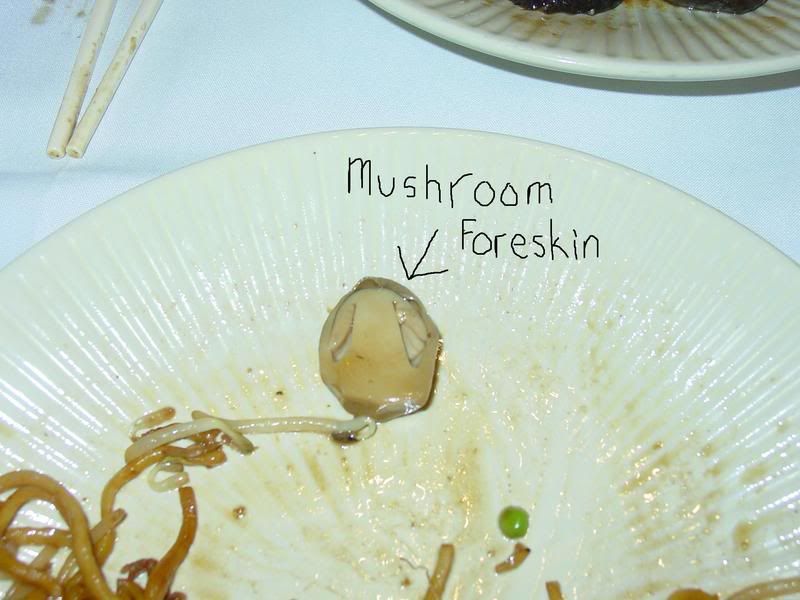 Tomrrow is our last full day and it will be filled with lots of walking, so we're turning in. G'night.
Day 7 (San Fran - 9/16/06 - Final Day):
This was the first day on our entire trip that we had nothing to do in the morning, so we finally got to sleep in. We were showered and out of the room by 11 am though, and enjoyed a breakfast/lunch of corned beef and cabbage at an irish restaurant around the corner from our hotel. Delicious!
Next we hopped the rail line west to Golden Gate Park. There's a ton to see here in this 5 block by 30 block park, but all we saw were homeless people...
(At this point, I can feel a Dennis Miller-sized bitch coming on here, so I'm just gonna let it fly)
Now I don't want to go off on a rant here... but San Francisco has a SERIOUS problem with homeless people. I've been to New York, Chicago, LA, Boston, Vegas, Miami, New Orleans (etc.) and this city has the worst problem of any I've visited, and it doesn't even matter what section of town you're in, cuz the homeless are there. If New York is the city that doesn't sleep, then San Fran is the city where people sleep everywhere.
There are so many people that are sleeping on concrete that you'd swear the sidewalks were built by Serta. It'd be nice if the powers that be in our country spent a little less time focusing on the well-being of people in foreign countries, and spent a little more time helping the displaced folks that wander our city streets, looking for a miracle. I can only hope that in my lifetime, our country will elect a leader that will give two shits about the itinerent members of American society, will tell the PACs to go fuck themselves, and will institute a Robin Hood type tax agenda - Steal from the rich, and give to the poor.
Of course, that's just my opinion, I could be wrong.
Sorry bout that, had to be done. Anyways, we left Golden Gate Park and headed East to the famous hippie capitol of North America.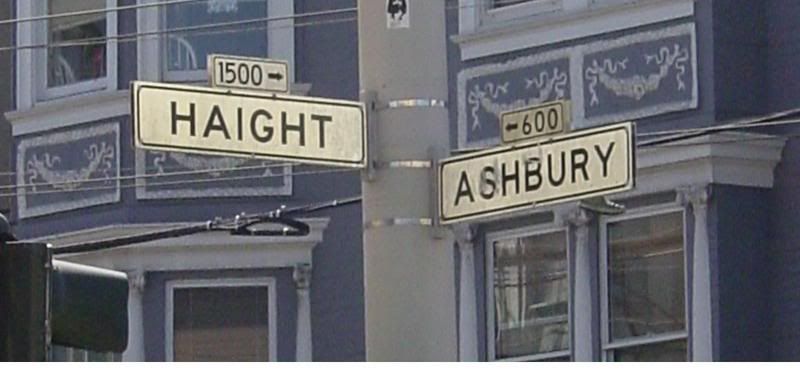 I was really expecting a 60's tie-dyed, dope smoking, make love not war hippie vibe here. Instead, commercialization has reared her ugly head and spat out stores like "The Gap", "American Apparel", and stupid fucking shit like that. I wanted to see head shops and bead stores and girls that don't shave their pits.
From there we hiked to the top of Buena Vista Park (mountain), an exhausting uphill climb, but the payout was that we finally got to see the Golden Gate Bridge.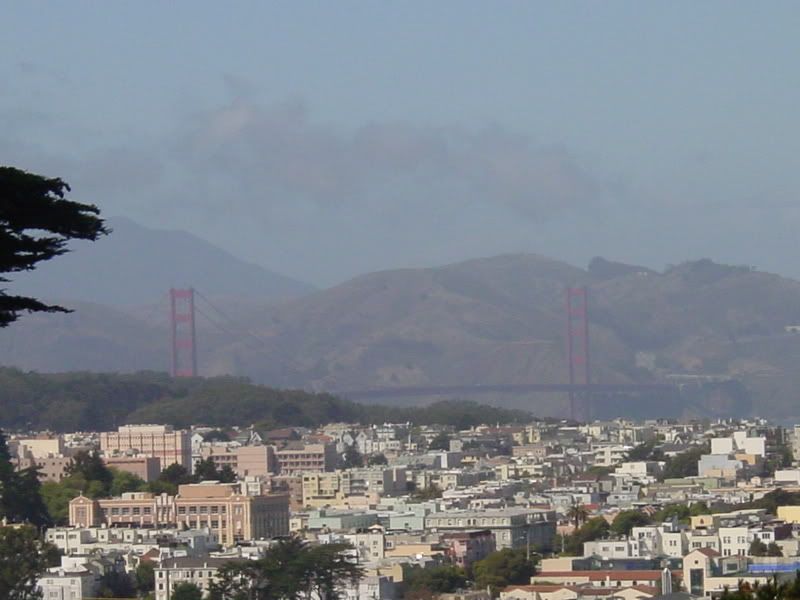 (I can't emphasize enough how much respect I gained for Tina during this trip. We did a LOT of walking and a LOT of hiking and she powered through it like a champ. Kudos to her.)
After a brief rest atop Buena Vista, we descended to the Castro Street section of town. This neighborhood is the reason that San Fran gets the reputation for being a homosexual haven. And with businesses like this, i can see why: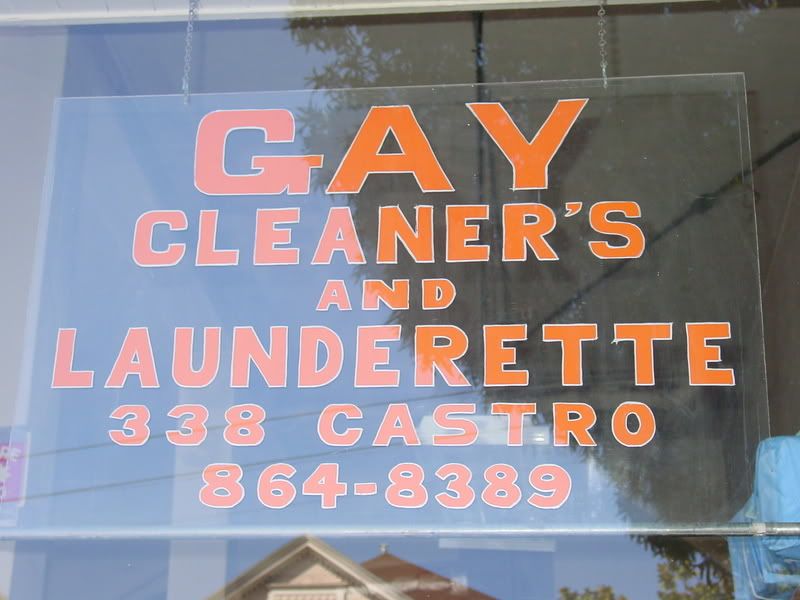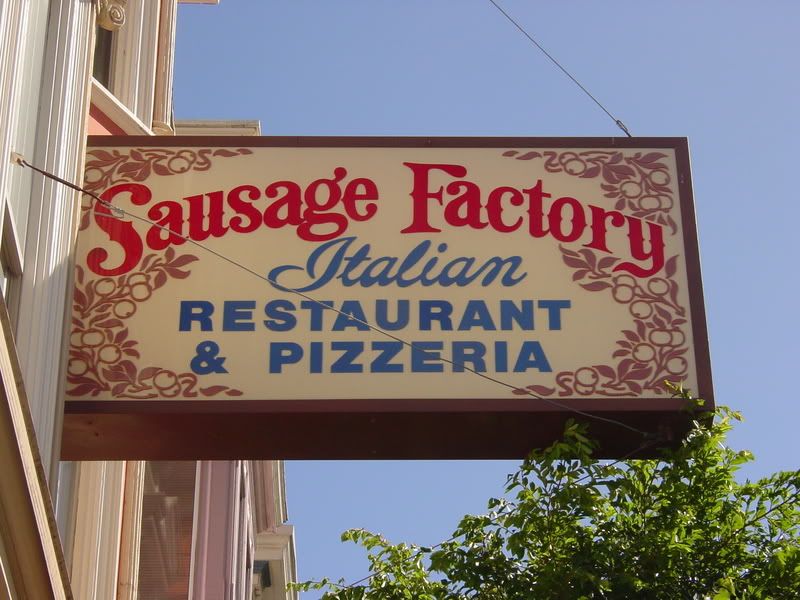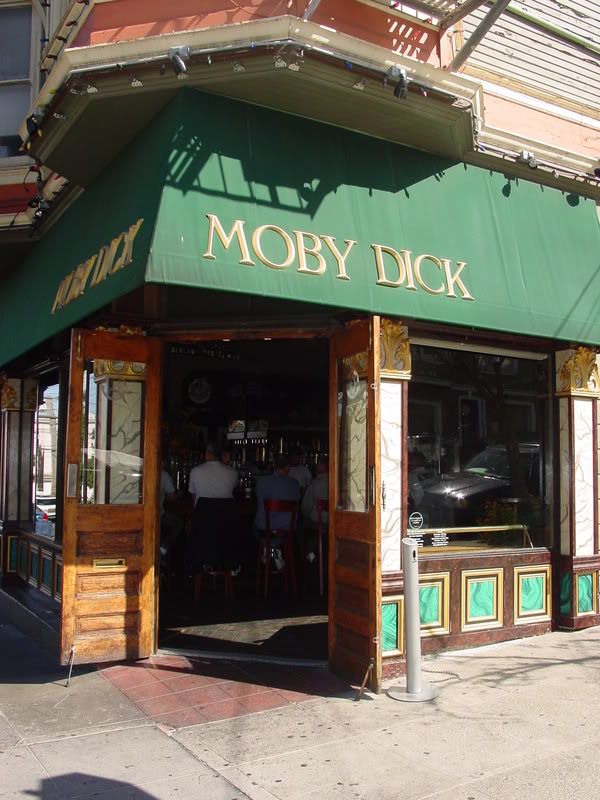 Tina and I stopped in at the Moby Dick to have a drink. I was hoping to see the Ben Dover Ale, Butt Pirate Porter, maybe even Colon Reamer Light, but alas, all my stereotypical thinking led me astray. A gay bar is just like a straight bar; just as boring, and just as desperate. I love me some gay people.
After a beer at the Dick, We needed to head back to the hotel to change for dinner. Since it was our last night in town, we splurged and went to Morton's. I normally order a filet mignon when I eat steak, cuz though it's the smallest, it also tastes good as hell and is worth the couple extra bucks. Tonight, Tina ordered the filet, so I ordered the prime rib. Holy friggin crap! Look at the size of this beast!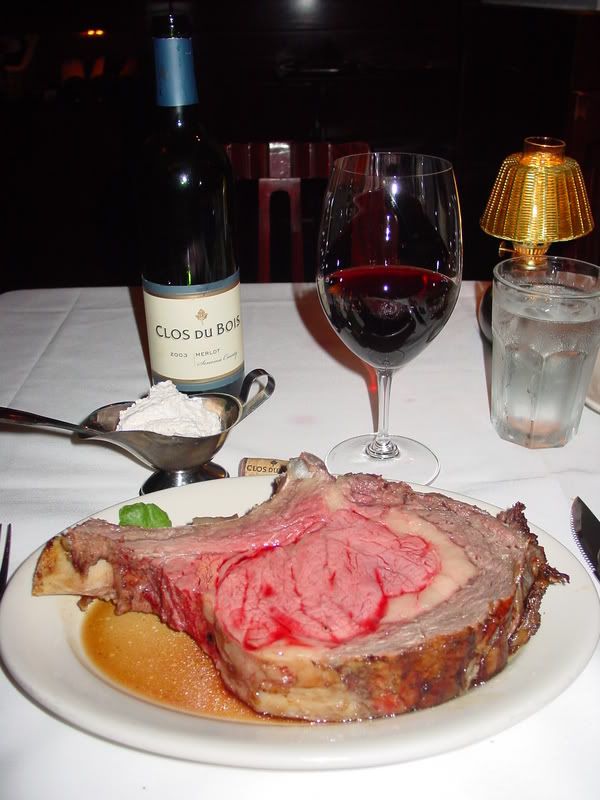 That bitch was two inches thick! And the asparagus was as big around as my thumb. That being said, quantity is not the same a s quality. We've only been to a Morton's once before, and that was two years ago in New Orleans, so this was our second visit. After two visits, I can safely say that I've had better steaks with smaller portions for much more reasonable prices. Hell, the filet at Carrabba's tasted better than the one Tina ordered, and it's only $20 with salad and sides. With what we paid at Morton's, we could have had 440 Jack In The Box tacos. Though, 440 Jack tacos would prolly kill me. Tasty way to go, however.
After giving up about halfway through that prime rib, our dessert arrived at our table...lava chocolate cake with vanilla ice cream.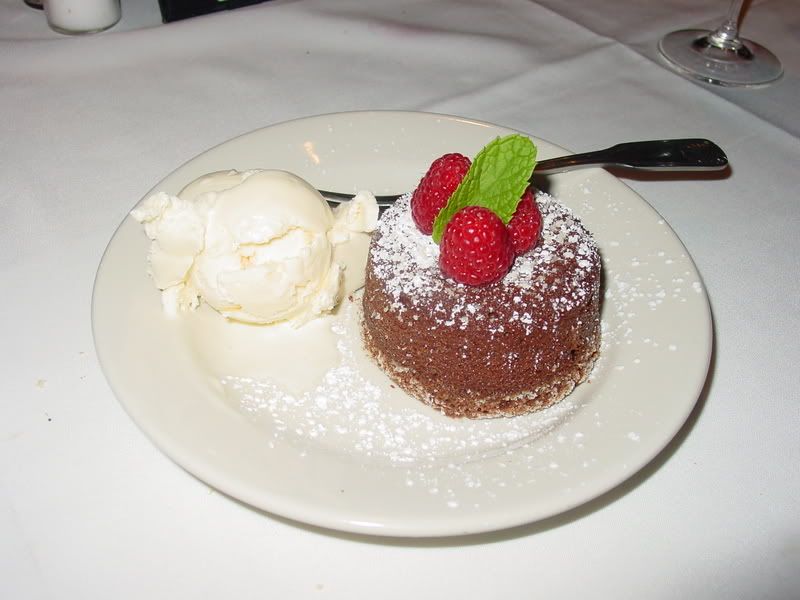 Quite delicious. We left the overhyped steakhouse and found a comedy club four blocks south. Some of the comics were funny, some were boring, and one was outstanding, but for only $10, seven comics, and three hours of standup, this was the best bargain we found the entire week. Our energy diminished by laughter, we ambled back to our hotel room. And then Tina started to dance...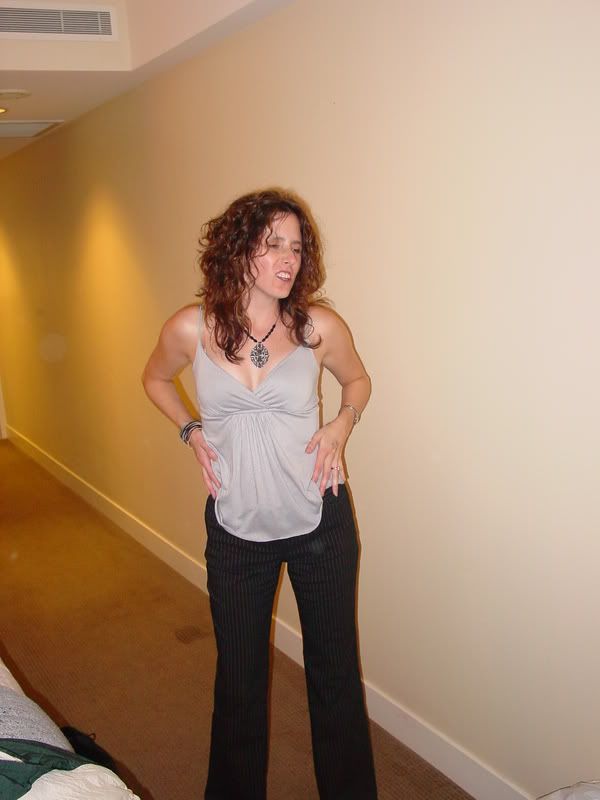 I thought that was her "I wanna have sex, I'm gonna take my pants off" dance. It turns out it was the "I think I have to take a shit" dance. Yep. Damn you, steak place!!
So, as we pack our bags for our return flight tomorrow morning, I'd like to thank you all for the cool feedback you've been giving us on this trip. It was nice to share it with you.
Good night.